TransForce Palatal Expander
The Transverse Appliance has an expansion module to increase the inter-canine width (expands at the cuspids) and may be used in the upper or lower arch when expansion is required to accommodate crowding in the labial segments, or to correct arch width in constricted arches.
Nitanium® Coil Springs enclosed in expansion modules provide slow continuous force
The Transforce palatal expander has a range of action of 8 mm from fully closed to fully open. This range can be increased in the molar region by adapting the angulation of the wires extending to the lingual sheaths in the molars. This appliance is extremely effective in correcting labial segment crowding in upper and lower arches as the expansion unit is positioned anteriorly to expand the inter-canine distance. This generates a continuous force of 200 grams in the canine region, and taking into account the lever arms extending to the molar region the force levels are reduced considerably, but are still effective in expanding inter-molar width, apparently without tipping the molars. It appears that the horizontal control achieved by the pin and tube activating mechanism, combined with occlusal forces help to prevent tipping of the molars due to the slower rate of expansion.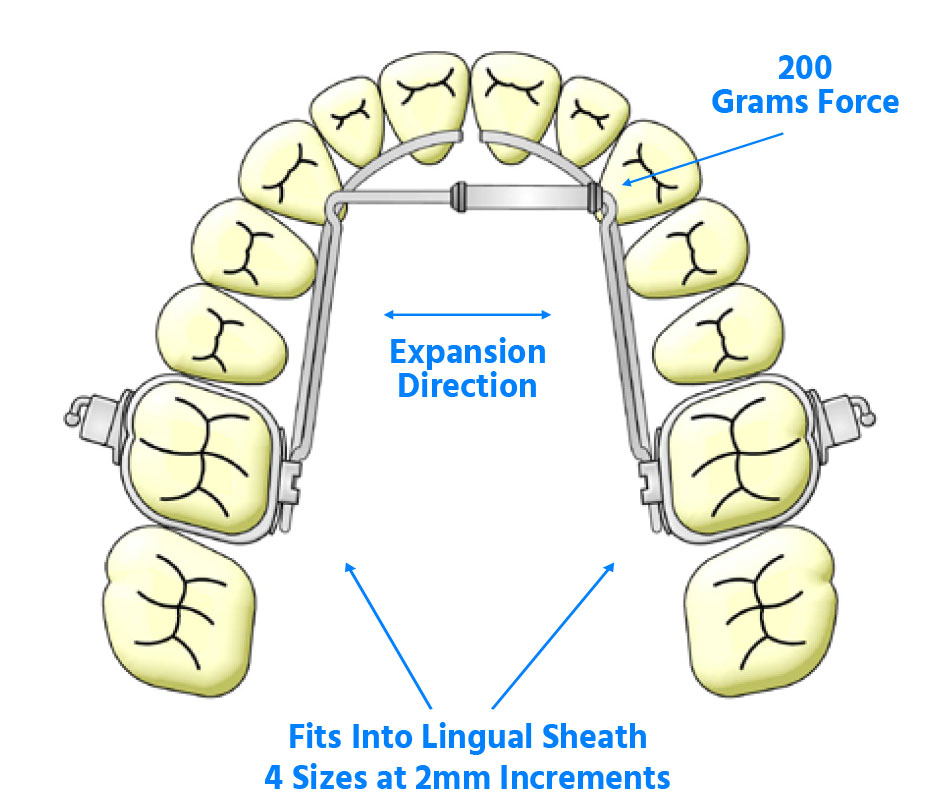 Treatments:
Treatment of anterior crowding from mixed dentition to adult therapy
To correct lateral crossbite in mixed or permanent dentition
Effective control of arch width in treatment with fixed appliances
First phase in adult treatment with invisible appliances to correct arch width
Easy integration with fixed appliances at any stage of treatment
Pre-adjusted invisible appliances simplify treatment
In contrast to rapid palatal expansion, this technique does not use traumatic force to separate the suture, but applies gentle forces, calibrated to a level of 100 to 200 grams according to the requirements of sagittal or transverse arch development. This eliminates the need for a third party to adjust the appliance on a daily basis, and importantly, it eliminates the pain associated with forces in the range of 1500 to 5000 grams. The Transforce Palatal Expander continues to expand archform by light continuous forces until fully extended by the enclosed nickel titanium springs.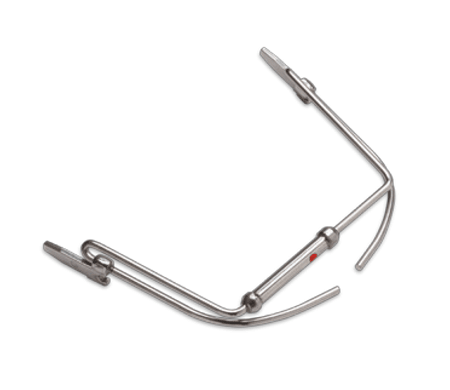 Blades
For ease of insertion
Expansion Module
Slow continuous force
Color-Code
Easy size identification
Placement blades are designed to insert easily into molar bands with standard .036" x .072" lingual sheaths
Lingual placement for a virtually invisible appearance
Color-coded for easy identification
Nitanium® Coil Springs enclosed in expansion modules provide slow continuous force
No Laboratory Work Required
Select and order appliance by desired finish size
Universal sizes for upper or lower arches – no need to carry separate inventory
Orders and Enquiries
Please get in contact for additional information. Online educational material for the TransForce Palatal Expander is also available.
Orders and Enquiries
Online Education